password-protection-for-notion-pages
Add Password Protection to your Notion Page and publish your Notion page to your own domain
In an increasingly digital world, safeguarding sensitive information is paramount. As a Notion user, password-protecting your pages ensures data security and confidentiality.
In this step-by-step guide, we will explore how to effectively utilize the Password Protection feature in Sotion, enhancing the privacy and control of your Notion pages.
Key Benefits of Password Protection with Sotion
Data Security: Password protection adds an additional layer of security to your Notion pages, ensuring only authorized individuals can access your content.
Complete Control: You have full control over who receives the password and you restrict access by changing the password at any time.
Seamless User Experience: Visitors can effortlessly navigate your website and access Notion content without redirection to external platforms. Visitors are no longer taken to the Notion website to view your page. This has major benefits for your brand and keeping visitors on your site.
Brand Consistency: An integrated Notion page on your custom domain maintains a cohesive brand experience, leaving a lasting impression on visitors.
Hassle-free Management: Sotion's user-friendly interface makes setting and changing access a simple process, saving you valuable time and effort.
Step 1: Publish Your Notion Page to a Custom Domain
To maintain full control over content access,
publish your Notion page to your own domain
. Instead of using a generic Notion link, your page will be available at a custom domain like
clients.designagency.com
. This offers two key advantages:
Control Over Content Access: Publishing your Notion page on your own domain grants you complete control over who can access your content.
Enhance Brand Visibility: Your Notion page content becomes seamlessly integrated into your website, keeping visitors engaged and boosting your brand presence.
With the help of our
Notion Website Builder
you can easily link your Notion Page to your custom domain in 2 minutes.
Step 2: Enable Password Protection for your Notion page
Log in to your Sotion Dashboard.
Navigate to the "Page" menu.
Under "Membership Options", choose the "Password Protection" option.
Click "Save Changes" to enable password protection with the default password.
Step 3: Set a Custom Password
Go to the "Login Page" menu in Sotion.
Enter the desired password for your Notion page.
Optionally set the Login Duration (this determines how long a member will remain logged in)
Click "Save Changes" to update the password settings.
Step 4: Enjoy Protected Notion Content
Now, any visitor trying to access your Notion page must enter the designated password to proceed.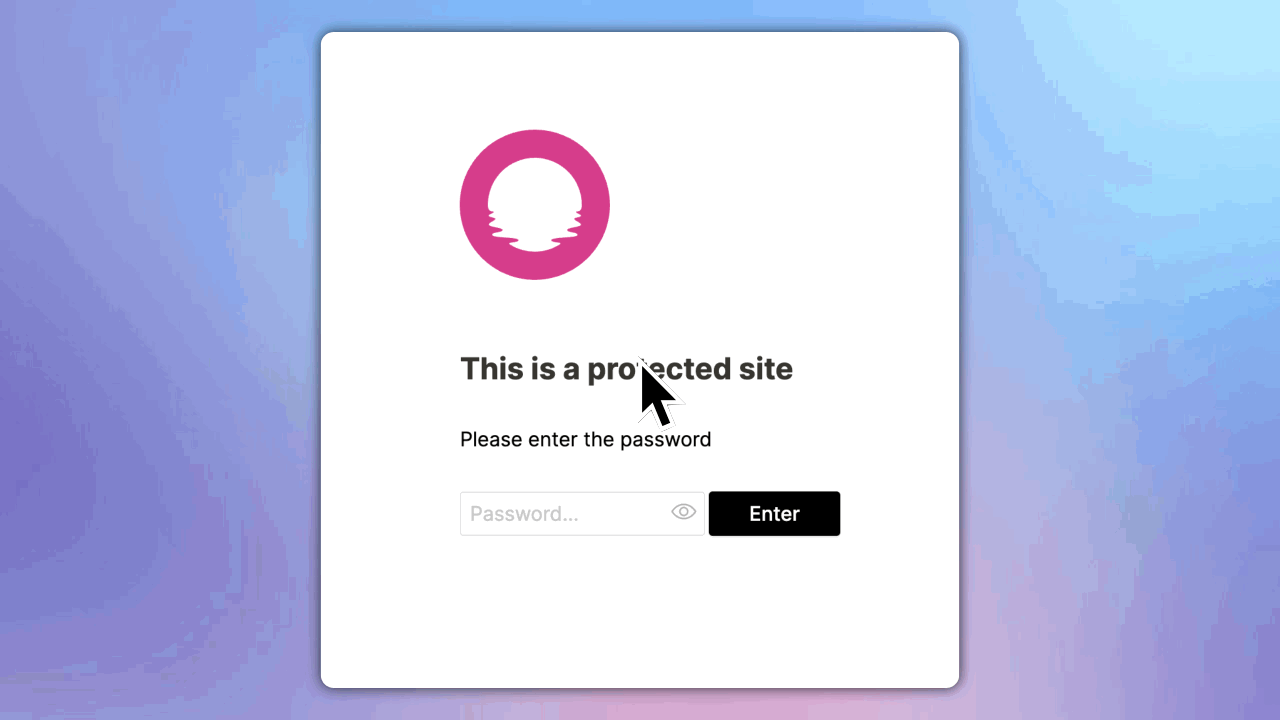 *Note: You have the flexibility to change the password at any time as per your requirements.
Sotion offers even more options to create Members-only accessible Notion content
In addition to Password Protection, Sotion also offers three other membership options for Notion:
Email Signup: Visitors have to enter their email address to access your Notion content.
Restricted Email List: You specify a list of email addresses that are allowed to access your Notion content.
Paid Membership: Members get access to your Notion content once they complete a payment.
Want to keep your Notion page private and still allow visitors access? Sotion gives you the ability to
connect to your private Notion page
and use any of the membership options.
Conclusion
By harnessing the power of Sotion's Password Protection feature, you can effectively secure your Notion pages and uphold the privacy of your valuable information. With the ability to assign a custom password, you have complete control over who can access your content, enhancing data security and preserving your brand's image. Try out the benefits of the Password Protection feature in Sotion and take charge of your Notion page security today.
Owner/Operator at Sotion.so