 Own your content. Own your brand.
Notion

Website Builder
Go from
Notion to website in 2 minutes

, no-coding required! Keep writing your content in Notion, all

changes are published instantly

.

Custom Domain

Easy SEO Optimization

Custom CSS & JS

Membership Management

More than +3000 sites already created!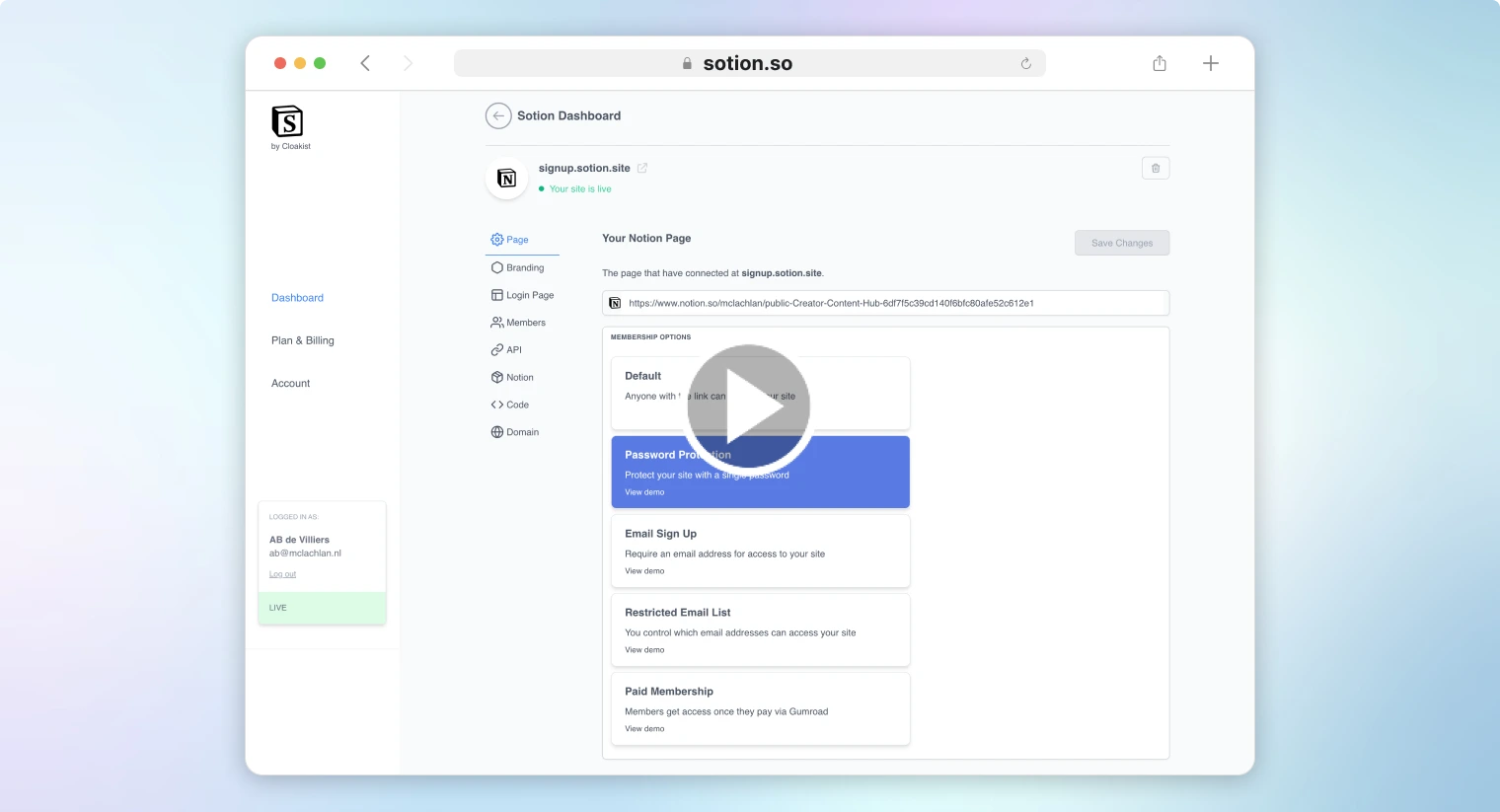 Transform Your Notion Pages into a Website
With minimal effort you can have your Notion Website connected and published in 2 minutes.
Copy Notion Page link
From Notion, click on Share → Publish → Publish to web → Copy web link
Create Website from Notion
Enter your Notion page link above and click "Connect with Sotion". Your website will be instantly published.
Your Notion to Website, done!
Now your Notion website is published and you can start customizing. Connect your custom domain, change the branding, add membership management, and much more...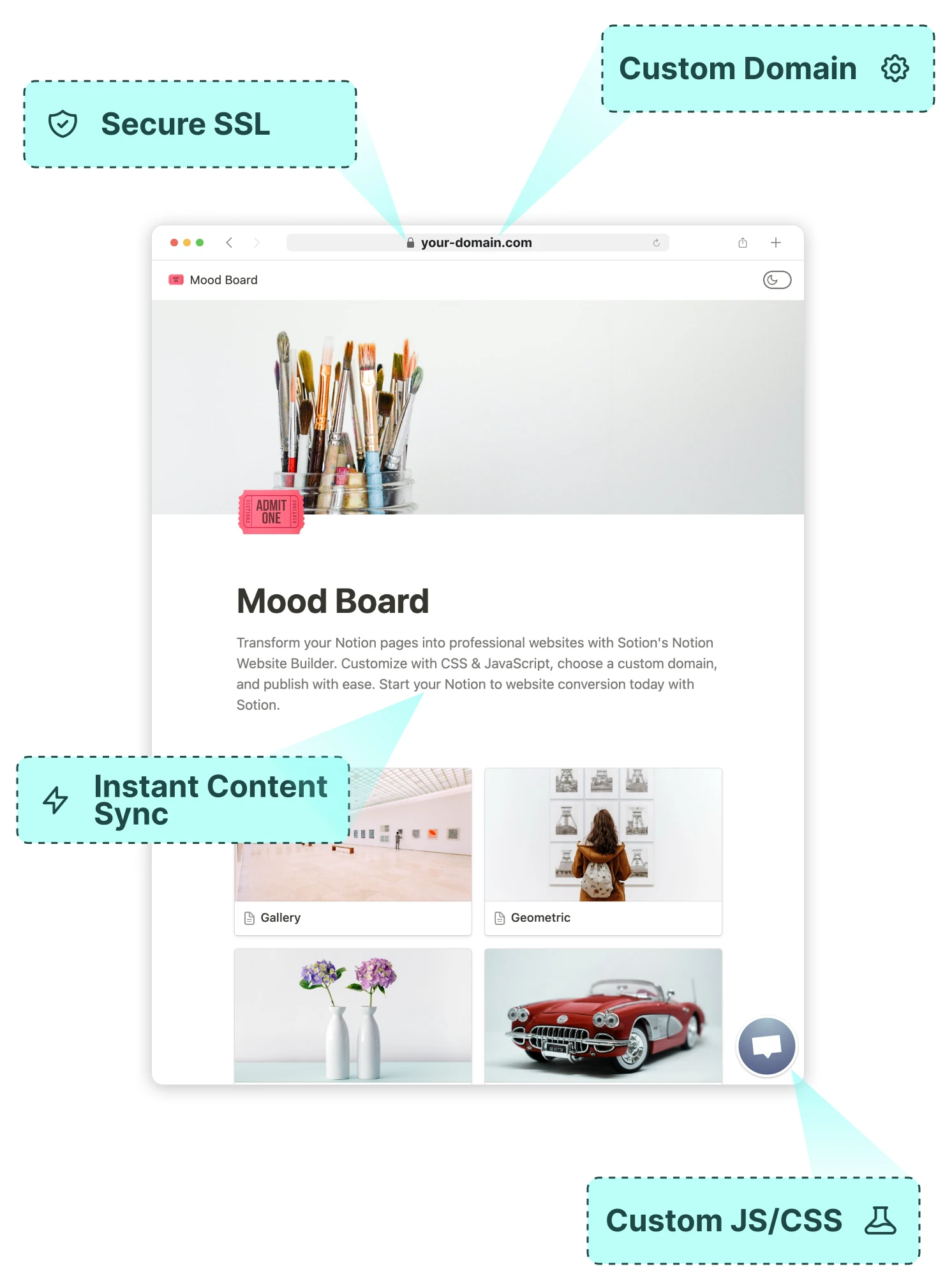 You focus on content, we'll handle the rest
Creating a website can be complex, but with Sotion we take care of the technicalities so you can focus on your content.
Custom domains for Notion

Publish instantly with a yourname.sotion.site domain, or connect your own custom domain whenever you are ready.

Secure Notion Websites

We take care of security, by issuing and instant SSL certificate for your site, ensuring secure access for all your visitors.

Publish content instantly to your Notion Website

Once your Notion page is connected, any changes you make in Notion will instantly be available on your Custom Notion Website.

Full customization and SEO optimization

Sotion enables easy customization of your Notion website SEO, branding, logo, title, description, favicon, sotcial sharing images. And for advanced customization you can use Notion with Custom CSS & JavaScript.
Control access to your Notion page
Create a custom Notion website and much more...
Create a single password to protect your Notion site.
Grant access to anyone who enters their email address. Perfect for collecting email addresses.
Define who can access your Notion site with an email list. Control access with an email whitelist.
Allow members to pay for access to your content via Gumroad
(Stripe coming soon)
API access to manage members via Zapier or Make.
(Webhooks coming soon)
Keep your Notion page private, only allow access via your custom domain.
Start your website with a Notion template
Create a professional looking Notion website with a ready-made Notion template. Just duplicate the template to your Notion workspace, modify, and publish your website with Sotion.
Frequently Asked Questions
about Notion Website Builder
Everything you need to know about creating a website from Notion.
Can I build my website with Notion?
Yes, you can build your website with Notion. Notion allows you to focus on your website's content without worrying about coding or design. It's a simple and efficient way to create a personal or business website.
How do I publish my Notion page as a website?
Publishing a Notion page as a website is quick and straightforward. You only need to click "Share" on any page, navigate to the "Publish" tab, and then click on "Publish to Web". This will make your Notion page available for viewing as a website to anyone with the link.
How do I use Notion as a website database or CMS?
Notion allows you to create inline and full-page databases for your page. An inline database will display within an existing page, while a full-page database will create a whole new page. You can add any content block into these databases, including sub-pages. You also have the option to utilize Notion's public API to build integrations for your database.
What is a Notion website?
A Notion website is a site that you create and manage using Notion, a versatile productivity application. You can turn any Notion page into a website and freely structure your content using various types of blocks and databases. It's a great tool for building websites without needing to code, allowing you to focus more on your content and less on the technical aspects of website design and development.
How much does it cost to build a Notion website with Sotion?
With Sotion you can easily create a Notion website and try it out for free for 7 days. To connect your custom domain and use our premium features you will need a paid plan. Our prices start at $10/month
Will my Notion website be SEO friendly?
While Notion pages themselves are not inherently SEO-friendly due to certain technical limitations, solutions like Sotion provide features that can help enhance the SEO aspects such as custom page titles, meta descriptions and social sharing previews.